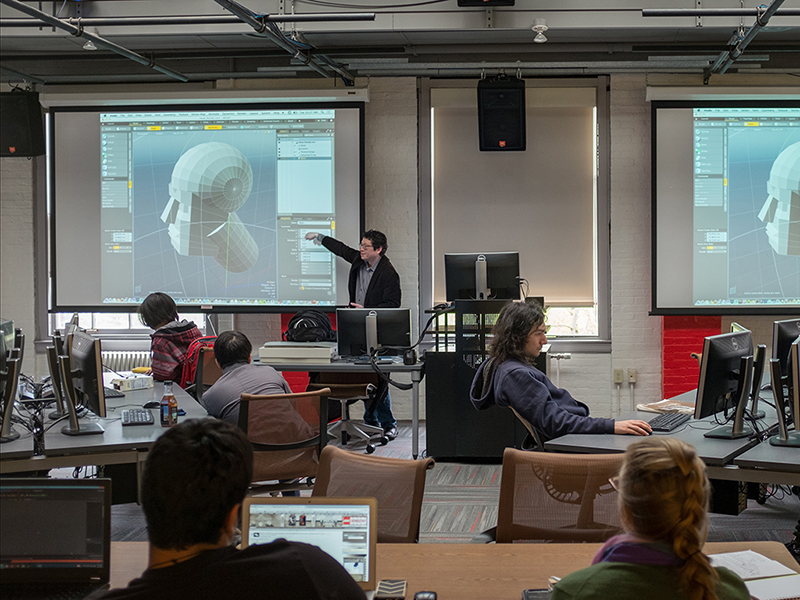 Rensselaer Polytechnic Institute Among Top Game Design Schools
February 13, 2018
New rankings from The Art Career Project and GameDesigning.org are the latest in a long line of honors for the Games and Simulation Arts and Sciences program
The accolades keep rolling in for Rensselaer Polytechnic Institute's highly regarded Games and Simulation Arts and Sciences (GSAS) program. The latest comes from two sources: The Art Career Project, a nationally recognized resource for art students and art professionals, and GameDesigning.org, "a central hub for all things game design".
"Rensselaer is a unique and rich environment for games studies, and our GSAS degree program offers an undergraduate experience like few others available in the country," said Mary Simoni, Dean of the School. of Humanities, Arts and Social Sciences (HASS), which houses GSAS. "Our program draws on RPI's Computer Science, Cognitive Science, Arts, Communication and Media, and Science and Technology Studies departments – a combination of resources that few other gaming programs can even claim, let alone equal. GSAS emphasizes a deep theoretical foundation as well as collaborative, interdisciplinary teamwork, which is how games are actually made. This equal emphasis on theory and practice means that graduate students are fully prepared to work in the games industry, and the program enjoys a considerable success rate in post-graduate employment.
The GSAS program comes in at No. 7 in the recently announced GameDesigning.org ranking for "The 75 Best Schools for Video Game Design".
"While there is no one best video game design school for everyone, we have compiled a list of what we believe are the 75 best video game design schools in the world," wrote l 'organization. "Attending one of these game design schools should dramatically improve your chances of success in both landing a studio job or successfully launching your own games."
"Rensselaer Polytechnic Institute is unique in that it allows students majoring in Games and Simulation Arts and Sciences to select a second concentration as well. These include art, computing, cognitive science, writing, and human-computer interaction," GameDesigning.org reported. "There are also many graduate programs that train future game designers in gaming and animation, communications technology, and more."
GSAS is number 12 on The Art Career Project's 2018 list of America's Best Colleges and Universities with Game Design Programs. The ranking names the highest rated accredited colleges and universities for game designers.
The ranking methodology includes an analysis of hundreds of post-secondary institutions in the United States offering game design programs and combines information from student data, published surveys, and other data collected from government agencies , including the National Center for Education Statistics and the Integrated Postsecondary Education. Data system.
These honors follow a No. 10 ranking on the 2017 Animation Career Review list of top game design programs in usa. Among East Coast colleges and universities, Rensselaer ranked 5th out of 25 programs and ranked seventh on the list of private schools and colleges and third among programs offered in New York State.
And the good news continues: Professor Ben Chang, Director of GSAS, recently reported that a game developed by two seniors specializing in GSAS has been named a finalist in the Best Student Game category at this year's Independent Games Festival (IGF). year. IO Interloper is a corporate spy and hacking game created by Ben Caulkins and Sam Suite.
Additionally, former GSAS Zach Barth '08 returns to this year's IGF Awards with an Excellence in Design nomination for his Shenzhen I/O programming and circuit building game. Barth is the founder of the independent game studio Zachtronics, creator of Infinifactory and SpaceChem. His game Infiniminer created the procedurally generated block building genre later popularized by games like Minecraft.
The IGF winners will be announced at the Independent Games Festival Awards on March 21 at the Moscone Convention Center in San Francisco.