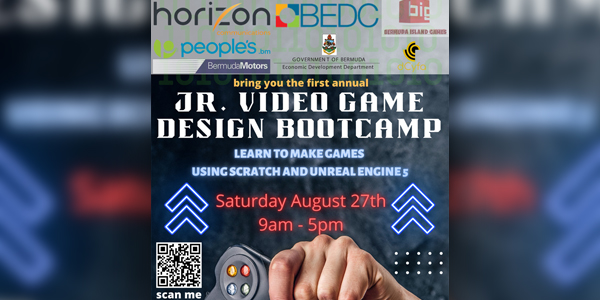 Junior Video Game Design Bootcamp on August 27
On August 27, local video game company Bermuda Island Games [BIG] and the educational organization dCyfa will be teaming up to host a Junior Video Game Design Bootcamp.
A spokesperson said: "BIG held a video game design challenge in March with virtual participation from dCyfa. Based on feedback from this challenge, there had to be a program that taught coding to a younger audience. As a result, BIG and dCyfa have joined forces to offer the Junior Video Game Design Bootcamp, which will encourage young students to learn how to apply coding in video games.
"The one-day Bootcamp will include different levels of coding using the same technology that many video games today are built on! Beginners can learn how to use Scratch to understand basic programming concepts. Intermediate coders can learn more advanced tools such as augmented reality, and experts can learn how to use Unreal Engine 5 for more 3D action games.
"The Junior Video Game Design Bootcamp will be held at Warwick Academy on August 27 from 9 a.m. to 5 p.m. for children aged 7-14. The cost to participate is only $10. Buy your tickets at PTix.com. For more information on the event, visit www.bermudaislandgames.com
"We are happy to sponsor this next Bootcamp. Adrian is passionate about developing a game design industry in Bermuda. After successfully launching his educational game, Somers Island, after winning our Rocket Pitch competition, it's wonderful to see his willingness to pay it forward to ensure he builds the next wave of game developers in Bermuda.
"Special thanks to BEDC, Government of Bermuda Department of Economic Development, Bermuda Motors, Horizon Communications Ltd. and People's Pharmacy for making this event possible."

Learn more about
Category: All, Company, News, technology