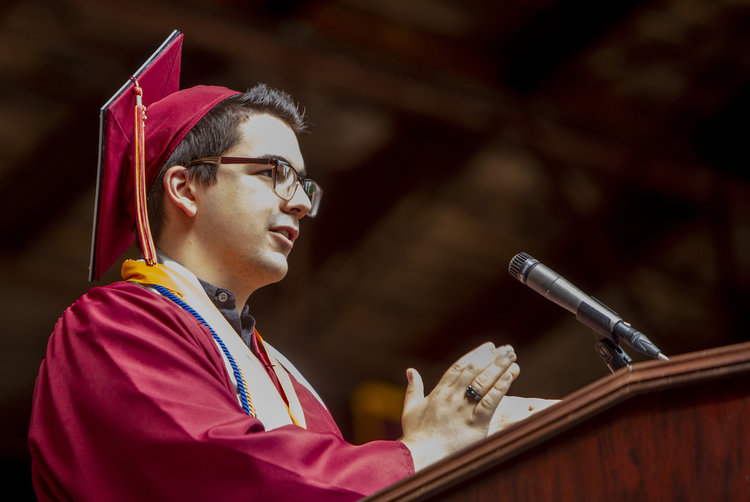 Bub will study game design, aspires to do animation
WESTERLO – Bern-Knox-Westerlo Salvator Corey Bub, from Westerlo, hopes one day to combine his artistic and technical talents in animation, an area that has a major presence in a myriad of others, such as film, television , advertising and video games, as Bub explained in a profile posted on BKW's online newsletter.
He will be studying game design at Schenectady County Community College, something he learned in some capacity in his BOCES Capital Region career and technology courses, his profile says.
"My time at Capital Region BOCES allowed me to find pleasure in analyzing, designing and publishing board games and computer games," said Corey.
At Seniors' Night in June, Bub received six honors in addition to his greeting award, including the George and Emma Hannay Memorial Award in Choir, the John D. Foster Memorial Drama Award and the Matthew G. Grippin Memorial Music Award.
Bub demonstrated his musical talent at BKW's graduation ceremony on June 26, held at Tawasentha Park, Guilderland, where he kicked off the event with a performance of the national anthem.
Later in the proceedings, Bub gave a touching speech in which he recounted his struggles with autism.
"At a very young age I was diagnosed with autism," Bub said. "Everyone was worried about how I would develop as I got older. I remember people saying how different I would be from other kids. They said I wouldn't even be able to hit a ball with a bat.
"Yet I didn't see myself as different. I just saw myself as myself. So in my mind it sounded like they said being myself was wrong. It made me want to do whatever I can to be 'normal', "Bub said, using quotes. "I tried to watch, eat, play and talk like my classmates. I became a virtually separate person from who I was at home.
Bub said he has finally learned to be proud of his difference, embracing her in his own way.
As a Salvator, Bub achieved the second highest GPA in the district, which is all the more significant since at the end of his speech he took the time to raise the students who had not received the school's praise.
"We all stand before you on an equal footing," Bub told the audience. "Rewards come and go, records are broken, class grades are faded into distant memory. What matters is who you become and the relationships you build along the way. "